Dawid Chojnowski – New European CHAMPION
Following on from Dawid's success at World Shoot in Thailand, we are happy to announce he has fulfuilled his goal and has been crowned Junior European Champion 2023 in Greece. Dawid also managed to finish in the top 20 Open shooters Worldwide coming in 9th place overall !
Here at SHIELD we couldn't be more happy for Dawid and wish him many congratulations from us all and the rest of his teammates.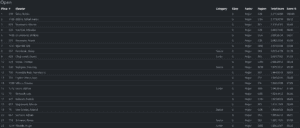 Full match results can be found here : EHC 2023 Hellas Results